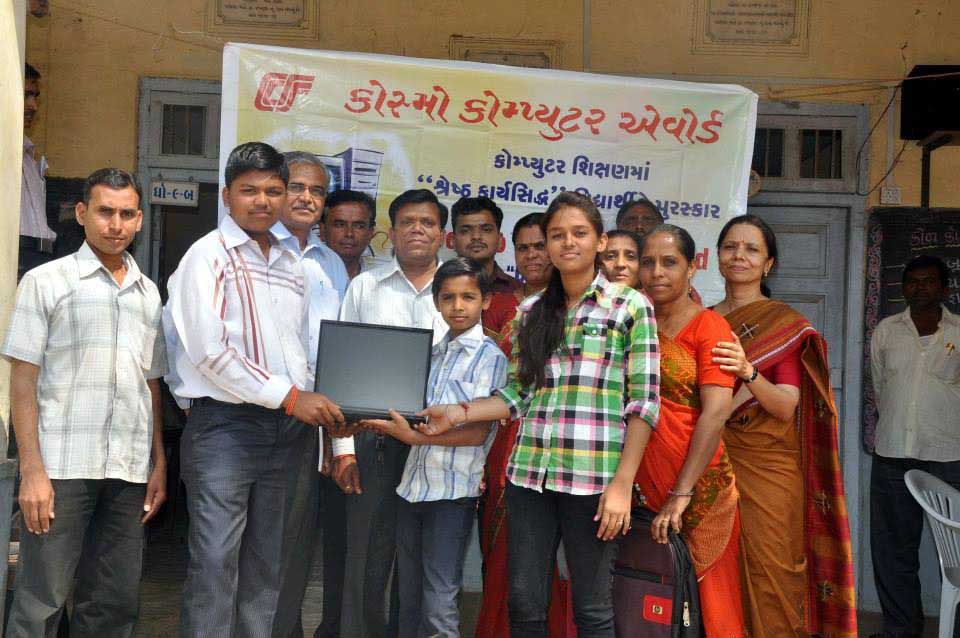 Baroda Beats-Web Portal Coverage CF 2015
Well, blessing comes in all shapes and sizes and for the people of Karjan taluka, or 8 villages of there per se, it came in the disguise of Cosmo Foundation. Yes, Cosmo Films, a big name in industry and its philanthropic wing Cosmo foundation. Two of the members of Baroda beat had been fortunate enough to have experience as interns from MSU in Cosmo and Cosmo foundation is special in away because during this experience only, Baroda beat came in action!! Generally the work done by the organization as a part of their CSR activity is not recognized enough and even if it is not appreciated enough because of the business initiatives attached to it.
But there are CSRs who are doing commandable work, it must be recognized. So here is how Cosmo foundation works, CSR head, Ms. Mamta Baxi, and the staff of Cosmo Foundation. Cosmo Foundation has its centers in 8 villages of Karjan Talukas and they are assisting for helping in increasing the reach of education and awareness and betterment of life skills of underprivileged children and rural youth. They provide education and for that they recruit staff through which they do employment generation too.
The main programme of Cosmo foundation involve CLP (Computer Literacy Programme), BEP (Basic English Programme), CGVK ( Cosmo Gyan Vihar Kendra) all these projects work with the sole objectives of making education reach to children even in the case which children are not able to do so. It has been said that teachers are second parents. Cosmo understands this line correctly and the teachers are called "Balmitras" because they provide education being friends with the children. For that teachers are trained first and work under the great leadership. Then the system at Cosmo requires the continuous updates from the teachers of the activities done at their centers through Social Media and that makes teachers well familiar with technological advancement.
At Cosmo the traditional methods of teaching are matched up with the creative and innovative techniques'. For example, in BEP "phonics" is used For English learning and other multimedia resources are also used. . Also along with different activities in CGVK, students are informed about the modern trends which are ongoing throughout the world. In CLP along with basic computer education, students are given the knowledge of use of computers in day to day life.
The various festivals celebration, computers award function in which the students who excel in computer among all the centers are gifted with a laptop along with internet dongle,To motivate them and others to work harder. Every student, especially the slow learners are given more attention by teachers and them also aware parents about their child's progress and the problem he or she is facing. From last year, cosmo has started engaging life skills modules and which the use of health card is working in field of creating healthy and clean environment for kids. Cosmo has also started working inspired by Swachh Bharat Abhiyan under the project "Swachh Bharat, Swachh Cosmo" and are actively engaging students in the cleanliness activity.
"Here at Cosmo teachers are not directive, they are facilitator, who helps children to learn how to learn" says Mamta Baxi who has implemented peer learning, group learning and so many innovative techniques of education and dedicated team of teachers is working hard to achieve the objectives of the Cosmo Foundation.
Published In :Baroda Beat