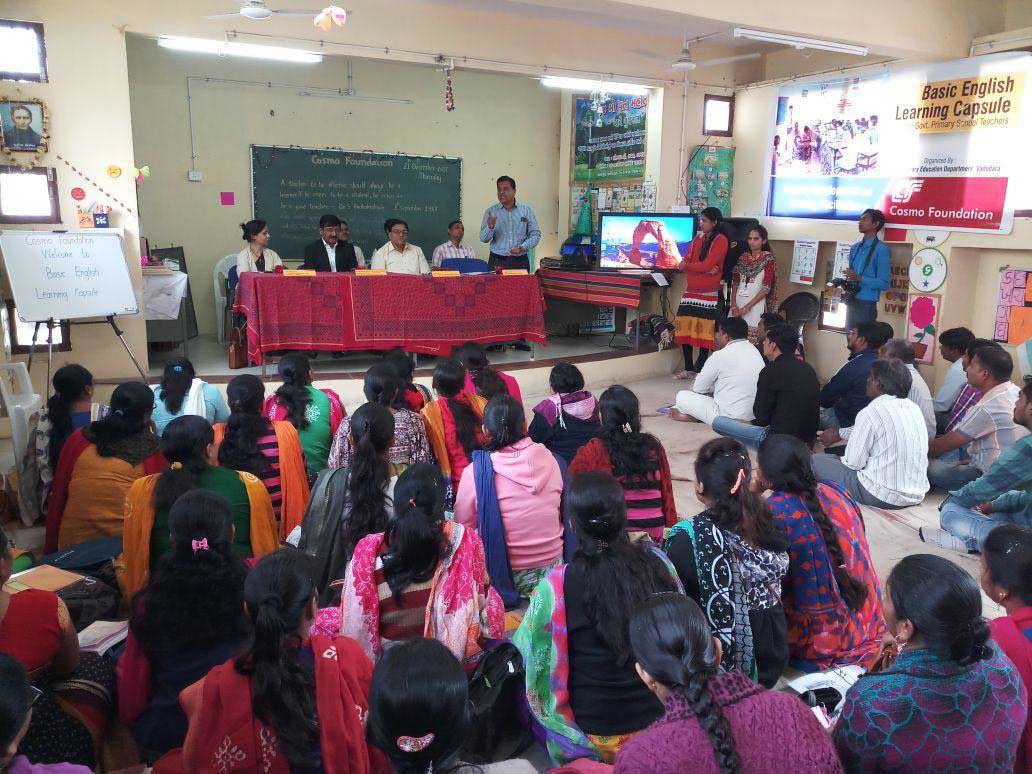 Cosmo Foundation conducts training for teachers
Vadodara, Gujarat: Cosmo Foundation along with District Primary Education, Vadodara organized special training program to train the English teachers in primary schools at Block Resource Center, Department of Education, Karjan, Vadodara.
Sixty teachers from government primary schools of Karjan participated in this program. The objective of the program was to train the Primary school level teachers in English language.
The idea was to enable the teachers to learn the language in terms of basic proficiency and then further develop it into an instrument of knowledge acquisition.
Cosmo Foundation facilitates training on following subjects:
Breaking the barriers and building a comfort in English language.
Use of English in day-to-day life.
English in our surroundings
Skill of listening and speaking through basic communication techniques.
Skill of reading with correct pronunciation.
Cursive Patten and skill of writing.
The NCERT Study on Teaching of English language at Government Primary School – 2012 suggests that English subject text book at the primary level should link the life of the children outside school. There is need to discourage rot learning and recommended an integrated approach of teaching English language.
In this context, Government of Gujarat has made various endeavor and transformed textbook of English language with practical approach.
However, the major challenge is training of government school teachers for English subject as they come from the vernacular medium and English being the third language and not part of day to day communication; it is difficult to transform the subject delivery into activity based learning focusing on listening and speaking skill.
Cosmo Foundation, a philanthropic CSR initiative of Cosmo Films Ltd. has launched a Basic English Learning Program for primary school children.
The emphasis is not on teaching textbook or merely grammar and composition but the course is designed on day-to-day communication, promotes expression, etiquettes and manners, breaks the barrier and builds the comfort to learn English.
Creative teaching learning methods, audio visuals aids are the added feature. This module is implemented in six primary schools in Karjan Block. It has added a great value to mainstream education and in the lives of children.
Published In :India CSR