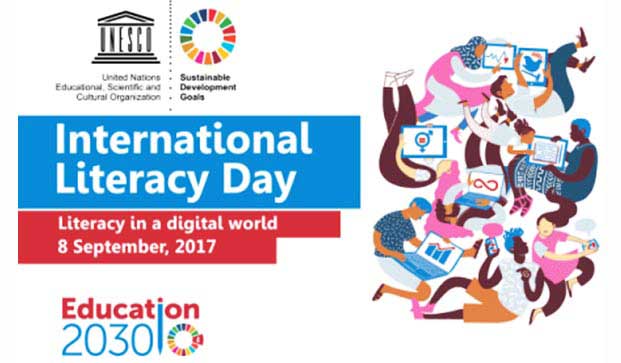 Transform Literacy Day into the Digital Literacy Day
The main programs of Cosmo Foundation involve Computer Literacy Programme with the sole objective of ensuring that Digital education reaches to children. In the year 2016-17, 4700 students participated in digital education program.
8th September is celebrated across the country as Literacy Day. This year International Literacy Day (8 September) will be celebrated across the world under the theme of "Literacy in a digital world" and Cosmo Foundation ensure digital literacy is imparted to rural communities to make sure that our future citizens are digitally enabled to face the future.
Cosmo Foundation, CSR initiative of Cosmo Films, which aims to empower rural children and youth through education has envision to make this realize with integrated supportive educational programs by imparting digital and English communication skills as well as strengthening basic literacy, arithmetic and fundamental concepts of education.
Here the goal is to strengthen basics, digital skills, life skills, values and prepare the young minds as skilled, value based future citizens who plays the greater role in the development of nation. Digital education expand world of rural communities, widens their exposure, skills and confidence to be an active partner in India's progress.
"On the eve of literacy day it is worth noting the efforts of Cosmo Foundation to transform literacy into digital literacy and promote overall education. To motivate and make them work harder, they have a lot of positive reinforcements like celebrating various festivals and award functions. Through this award functions all the students who excel in computer among all the centers are gifted a laptop along with motivational and career orientation books and CD's.", Says Jay Kasondra – Intern from MHRM Course, M.S. University at Cosmo Foundation.
The major objective of the Computer Literacy Program is to expose and orient students to computer operation and prepare them for digitalized world. Qualitative Computer Education helps to enhance students' interest in education, improve their performance in mainstream education and expand opportunities for higher and technical education as well as employability. The program is designed in the backdrop of complete absence of computer education in rural schools and in this digitalized world students were isolated from technology and digital skills.
"I did'nt know ABC of computer while I was in my 6th and 7th class. Wasn't aware of operating computer. After association with Cosmo Foundations, I performed the best in computer and English program and am recipient of prestigious Cosmo computer award in 2011. I also Learnt Photoshop and digitalized my father's small entrepreneurial initiative of photography and increased the business three fold, Along with it I completed diploma in electrical engineering and at present am pursuing degree course." Say's Samir Mansuri – Ex-student from village- Ganpatpura.
With recent move of Government of India on digital payments and net banking, Cosmo Foundation has made aggressive efforts to bring it to the door steps of rural communities. Organization has addressed difficulties faced by community as well as local banks and conducted trainings with 1000 youth across villages in Karjan.
Looking at the intensive work of Cosmo Foundation on digital transaction and net banking, ICDS department of Karjan invited Cosmo to conduct the training for their Ananganwadi workers.
95 Ananganwadi workers from 53 villages participated in this program. They were thoroughly trained on various methods of digital transactions through videos, posters, presentations and apps.
Cosmo Foundation, set up in 2008 is the philanthropic arm of the Cosmo Films a leading manufacturer of BOPP and thermal laminated packaging films, works closely with the lesser developed communities around its manufacturing units i.e. at Karjan block of Vadodara District.
It has built in partnership with about twenty five government and grant in aid schools spread over 16 villages in the Karjan Block of Gujarat and Gangapur block of Maharashtra. 7000 students are receiving quality education under this initiative.
The main programs of Cosmo Foundation involve CLP (Computer Literacy Programme) with the sole objective of ensuring that Digital education reaches to children. In the year 2016-17, 4700 students participated in digital education program.
Published In :India CSR